See what our customers are saying about the FS-2500...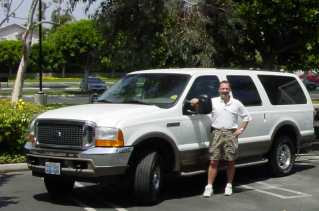 Steve Barnes, Reno, Nevada
I have been using the FS-2500 on my Ford Excursion with a Power Stroke engine for 2 years now and I simply love it. My Ford dealer in Carson City, NV, Capital Ford, did the install for me. At first I wondered if the FS-2500 would really do what I had been hearing it could do, but not anymore. The FS-2500 works great! Before I had the FS-2500 installed on my engine, the oil would turn black instantly after having the oil changed, now my oil stays perfectly clear well past 7,500 miles. Capital Ford was so impressed with how the FS-2500 cleaned my engine, they strongly recommended that I get one for my transmission since my transmission had failed under warranty and I pull an 8,000lb. trailer in my business. Capital Ford installed that one too and my transmission fluid is now clean and my transmission has not given me any problems since.


Marty Oehmler, Olathe, KS
"I've used the FS-2500 for two and a half years now and it works great. I've changed the oil on my Powerstroke every 20,000 miles and the oil looks like it came from a gas engine at 1,000 miles. If you own a diesel pickup the FS-2500 is a must to increase the life of your engine and the life of your oil."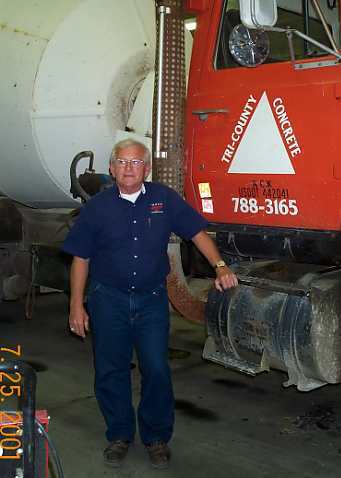 Cecil Foley, Tri-County Concrete, Kansas City, KS.
"Here at Tri-County Concrete we have been using the FS-2500 for two years now. When I first heard about the FS-2500 I was a little skeptical. But after seeing a demonstration I bought three systems to give them a try. To my surprise the FS-2500 worked better than Filtration Solutions told me it would. Using proof from our oil analysis reports we were able to extend our oil drain intervals from 200 hours to 800 hours. Needless to say, we have since installed the FS-2500 on all of our Ready Mix Trucks, Loaders and OTR Trucks. All of our equipment is now on an 800 hour oil drain interval. The first week of July 2001 we got the most convincing evidence that the FS-2500 is a must for any diesel engine. One of our 855 Cummins engines dropped a valve and had to be overhauled. When we took the engine apart we were shocked at what we saw. There was absolutely no soot or sludge anywhere in that engine. Not even in the tiniest of crevices. That five-year-old engine looked brand new! I have been around the aggregate business and diesel engines for forty years, and I, nor anyone I know has ever seen anything like this. If you want to protect your engines, call Filtration Solutions today."
To see the inside of the engine at Tri-County click here!


Bandy Bernard, Elm Transit, Springfield, Ill.
"Here at Elm Transit, Inc. we have used the FS-2500 Filtration System since 1998 and we love it. Before we bought the system for our 20 trucks we changed our oil every 10,000 to 12,000 miles. Now with the FS-2500 we change oil every 50,000 miles. The FS-2500 is saving us over $1,100.00 per truck per year, that kind of money adds up really quick. Before we bought the FS-2500, we asked Caterpillar their opinion of the system, they came out and told us that the FS-2500 would not give us any benefit at all. Boy were they wrong, not only are we saving a ton of money using the FS-2500, our oil sample reports are showing us that our engines should last us a lot longer than they would without the system installed. I guess that's why Caterpillar did not want us to use the FS-2500. If you want to save money on your operating costs and control soot in your engines like never before you need to call Filtration Solutions today, the FS-2500 really works."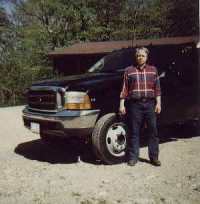 Ed Stoffregen, Hamilton Ohio (Ford F550 PSD)
25 May 01Gentlemen:
I recently installed the FS-2500 system on my 1999 Ford F550 Powerstroke Diesel. After about 15 miles I checked the system for leaks. The oil appeared as normal, dark in color. I checked the oil again at 100 miles and the oil was cleaner. The more I drove the cleaner the oil appeared. I have no doubt this system works. Installation was very simple as the engine block had all the holes drilled and tapped as if it was made for this type of system. If anyone in my area would like to contact me about this system feel free to give them my name and number. Sincerely,
Ed Stoffregen, Hamilton, Ohio


James Rawlins, Leased to the Celadon Group, Dallas Texas
"I've used the FS-2500 since 1995 and it has never let me down. The first truck that I put the FS-2500 on was a 378 Peterbilt with a Series 60 Detroit engine. When I installed the FS-2500, the truck had 525,000 miles on it. When I sold the truck the engine had 1,850,000 miles on it and ran great. My oil samples were perfect and the engine produced factory spec horsepower and torque on the dyno. That entire time, the FS-2500 stopped the wear in my engine and allowed me to go 50,000 miles on my oil drains. I never even needed an in-frame. In 1998 I bought a new truck with a CAT 3406E engine in it, and I put the FS-2500 on the same day. Since the FS-2500 got me 50,000 miles per oil change with Shell Rotella T 15-40, I wondered how far the FS-2500 would take me with synthetic; so I switched to Mobil One. I sent oil samples in every 12,000 miles and they always came back perfect. I ran my oil over 275,000 miles before I changed it. The only reason I changed it then was because I had an injector problem that put fuel in my oil. Over the years the FS-2500 has saved me nearly $13,000.00 in oil changes and countless hours of downtime at truck stops waiting in line for an oil change. The FS-2500 has allowed me to drive 2 trucks over 1,750,000 miles without rods and mains or an overhaul, now that's pretty good performance for less than $700 (updated). Call Filtration Solutions today and order a FS-2500 of your own, it's the best investment in the trucking industry today."


James "Red-Eye" Stewart, Leased to B&D Motors, Inc., Merrill, WI
"I have been using the FS-2500 for a year and a half and I love it already. I own a 1996 Mack CH613 with an E7 454 hp engine. I have religiously changed my oil every 10,000 miles for 31 years, that is, until I got my FS-2500. Now I change my oil every 60,000 miles and I couldn't be happier. My oil samples are absolutely perfect and my oil at 60,000 miles looks and feels like oil with 1,500 miles on it. In February 2001, I was at my Mack dealer in Fond du Lac, Wisconsin and another trucker with a Mack was talking to my mechanic and they were talking about my truck and the FS-2500. The other trucker could not believe what he was hearing until we changed my oil. The mechanic drained 5 gallons of oil into a bucket and you could see clear to the bottom of the bucket! Now that's impossible on any diesel engine, especially a Mack, but the FS-2500 made the impossible happen. The other trucker who was asking about the FS-2500 said if he hadn't seen it with his own eyes he wouldn't have believed it. Needless to say he bought an FS-2500 the next day. If you want to protect the huge investment that you have in your engine, and save thousands of dollars a year on maintenance, call Filtration Solutions today, the FS-2500 really works."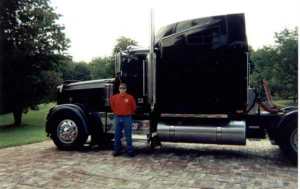 Virgil Marcy, Kingsville, Ohio
"I am using the FS-2500 Filter system from Filtration Solutions and my results couldn't be better. I own a 1996 Freightliner XL Classic with a 475 3406E CAT engine in it. I use DELO 400 oil and before I bought the FS-2500 I changed my oil every 10,000 miles. Now, because of the FS-2500 I change my oil every 80,000 miles. From the time that I put the FS-2500 on my truck, I started sending oil samples to CAT's S.O.S. Lab and to Blackstone Laboratories in Fort Wayne, IN. Both labs have always reported that my engine and my oil are in great condition. I was even told that I should be able to go 100,000 miles on my oil if I wanted to. For me 80,000 miles is more than enough and it is much farther than the 20,000 miles Filtration Solutions said I should be able to get. And most importantly, based on my oil sample reports, my engine should last me a long, long time. The first 10 months of using the FS-2500, it has saved me over $1,250.00. In that amount of time I would have normally changed my oil 11 times. I have only changed it once. The filter has saved my well over 3 times what it cost me. And the best part is over the next 4 years the FS-2500 will save me over $5,000.00. I can pay for a lot of high dollar fuel with those savings. Call Filtration Solutions and get a FS-2500 today, this filter is great!"


Dave Cash, Holliday Sand & Gravel, Edwardsville, Kansas
"We've used Filtration Solutions FS-2500 for over 3 years now and we are very pleased with its performance. In the beginning our oil company told us that if we wanted longer drain intervals we didn't need the FS-2500, all we needed to do was use their more expensive higher grade oil. We tried both and our oil samples with the cheaper oil and the FS-2500 looked better at extended drains than the expensive higher grade did without the FS-2500. When we asked Caterpillar about the FS-2500, they told us that we would get no additional benefit using the system other than increasing the lube oil sump capacity by a quart and a half. Quite to the contrary, our 3 years of experience with the FS-2500 have shown us conclusively that using the FS-2500 should extend the life of our engines many times longer than they would last without the filter. As for oil drain extension, we are at 500 hours per oil drain using the FS-2500, which has cut our costs in half. We now have the FS-2500 installed on ALL of our equipment, from 12 cylinder tugboat engines down to our gas powered portable welders. If you want a cost effective way to cut your maintenance expense and extend the life of your equipment, call Filtration Solutions today. The FS-2500 really works!"


Steve McCandless, Garney Companies, Kansas City, Missouri
"We have been using Filtration Solutions' FS-2500 for nearly 3 years now, it has allowed us to reach some of our maintenance and environmental goals that we could never have reached without it. From a maintenance stand point; we have increased our oil drain intervals from 250 hours to 400 hours. Since having the FS-2500's installed, our CAT S.O.S. oil sample reports have always come back perfect and indicate clearly that our engines and hydraulic systems should last us many times longer than they would without the FS-2500. We have been so impressed with the performance of the FS-2500 that we don't take delivery of any new CAT equipment until the filter is installed. From an environmental standpoint, extending our oil drain intervals by 65% have not only saved us time and money, it also has reduced significantly the need for waste oil removal services. Implementation has always been professional and efficient and the entire program is very cost effective. If you want to acquire a tool that will help you manage your business better, call Filtration Solutions today. You will be glad you did, we are."


Lloyd Wayland, Wayland Transportation, Dade City, Florida
"We use the FS-2500 and we love it. We have two trucks that are run by teams and we log well over 250,000 miles per truck per year. Before we bought the FS-2500, we changed our oil every 10,000 miles and that cost us more than $6,800.00 in oil changes every year. Because we had no other alternative, we paid this money and didn't think much else about it. Since we started using the FS-2500, we have extended our oil drain interval to 50,000 miles. Now, instead of changing oil over 50 times per year with the 2 trucks, we are now changing oil just 10 times a year. With the FS-2500 we have cut our expenses down from over $6,800.00 per year to just about $1,360.00 per year. Our oil sample reports are showing us that the oil is clean enough for continued use and our engines have virtually no wear. Unfortunately, the $5,400.00 that we have saved using the FS-2500 has been completely eaten up by high diesel fuel prices. But at least we had the "house's" money to pay these high prices. We are real pleased with the system and over the next 5 years, we look forward to saving over $27,000.00 using it. This filter has saved us many times what it cost us, and there are not a lot of products out there for the trucker that can do that. If you want to survive in this business, you probably ought to give Filtration Solutions a call, you will be glad you did."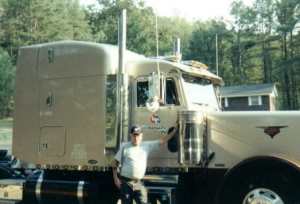 Marvin Overton, Leased to Liquid Transport Corporation, Dora, Alabama
"I've been using the FS-2500 since 1996 and I tell you this filter works great. When I got the FS-2500, the guys at Filtration Solutions said that I would be able to double my oil drain interval and go 20,000 miles per drain. Well, for over 4 years I have been going 40,000 miles per oil drain and my oil samples are perfect and my engines runs like new. When I first bought the FS-2500, I installed it on a new 379 Peterbilt with a 550 CAT 3406E engine. I drove that truck 478,000 miles. In that time I changed my Shell Rotella T 15/40 oil every 40,000 miles, which saved me over 36 oil drains and nearly $4,000.00! The FS-2500 saved me over 10 times what it cost me. You can't beat that with a stick! Now, I have a 2000 379 Peterbilt with a 550 CAT engine, I still use the FS-2500, I still use Shell Rotella T 15/40 and I still change my oil every 40,000 miles. When I got my new truck my Peterbilt dealer reinstalled my FS-2500 on it before I took delivery. This is the same filter that already paid for itself ten times over on my old truck and is working hard for me on my new truck. If you are a trucker, you should give the FS-2500 a try. No other filter that I have ever heard of does what this one does. There is nothing out there like it!"


David Bones, The Bones Company, Ottawa, Kansas
"It can be tough making a living in the trucking business, so any edge you can get is welcome. We have found just that edge with Filtration Solutions' FS-2500 filtration system. Since we started using the FS-2500, we have safely increased our oil drain intervals from 12,000 miles to over 50,000 miles. Our oil analysis reports always show that our oil is in great shape. Even though we are saving thousands of dollars on our oil drain costs, what we are really excited about is the fact that our engines have virtually ceased to wear. Any time you can keep you wear- related downtime to a minimum, that means a healthier bottom line for the business. Another benefit of the FS-2500 is its ability to control fuel soot in our oil even at extended drain intervals. As a test, we ran the FS-2500 on the same trucks that had a centrifugal-type filter installed already. Before the FS-2500's were installed, we would clean out about a quarter of an inch to a half an inch of soot and dirt from the centrifugal-type filter every 12,000 miles. After the FS-2500 was installed there was NOTHING in the centrifugal filters at 50,000 miles, the FS-2500 is doing all the work! In the twenty years that we have been in this business, we have seen a lot of gimmicks come and go. But we can honestly say that the FS-2500 filtration system by Filtration Solutions really does more than the company promised. These filters are great; you owe it to yourself to give Filtration Solutions a call today!"